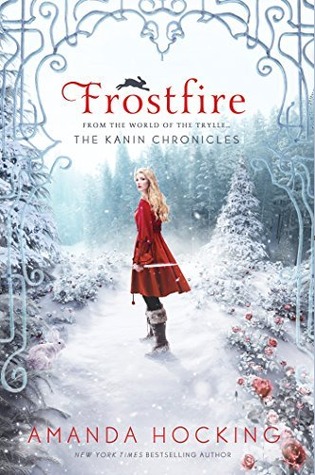 Genre: Paranormal Romance/ YA
Publication date: January 6th, 2015
Publisher: St. Martin's Griffin
Read: February 2015
Pages: 321
Rating: 4/5
Summary:
Bryn Aven is an outcast among the Kanin, the most powerful of the troll tribes.
Set apart by her heritage and her past, Bryn is a tracker who's determined to become a respected part of her world. She has just one goal: become a member of the elite King's Guard to protect the royal family. She's not going to let anything stand in her way, not even a forbidden romance with her boss Ridley Dresden.
But all her plans for the future are put on hold when Konstantin– a fallen hero she once loved – begins kidnapping changelings. Bryn is sent in to help stop him, but will she lose her heart in the process?
My review:
I was thrilled when I found out Amanda Hocking was going to write another book series set in the Trylle world. If you didn't know, The Trylle Series was the reason why I'm now a bookworm. In that series I was actually torn. I wasn't a big fan of the love triangle because it was a little predictable who Wendy was going to end up with. However, I still loved that series because it made me get into reading.
Frostfire was satisfying and I was happy with how this new series started. I did have a good feeling about it before reading the book. I adored the new characters and the old ones like Finn Holmes and Ember Holmes who appeared in the previous series. The main character Bryn was a pretty tough character and that's what I loved about her. Although, like Finn, she took her job very seriously and wouldn't do anything to distract her from her job such as Love.
"For you, I would lay down my life any day."
Ridley reminded me a little bit of Finn. Though, he's less mysterious. He's a little older than Bryn, but I felt like they were the same age. The romance in this book wasn't that big, like Switched (the first book in the Trylle Series). I didn't really mind because the story in general was interesting and a little bit of romance wasn't a problem for me.
Unlike the last series, I actually wanted a love triangle. haha. Konstantin Black was very mysterious and I was really curious about his character. Even though he was the enemy, I felt like there was something good in him that the others didn't know. I think he was just blackmailed by someone who was much more superior than him.
About the author:
Amanda Hocking is a lifelong Minnesotan obsessed with Batman and Jim Henson. In between watching cooking shows, taking care of her menagerie of pets, and drinking too much Red Bull Zero, she writes young adult urban fantasy and paranormal romance.
Her New York Times best-selling series the Trylle Trilogy has been optioned for films. She has published fifteen novels, including the Hollows and the Watersong series.
Frostfire
- the first book in her newest trilogy,
the Kanin Chronicles
- is out now, and the second book -
Ice Kissed
- will be May 5, 2015.
For more info about her and her books, here are some other places to check out and ways to contact her:
Facebook:
www.facebook.com/amandahockingfans
Pinterest:
www.pinterest.com/aehocking/
Wattpad:
www.wattpad.com/AmandaHocking
Email: hockingbooks@hotmail.com
Tumblr:
amandahocking.tumblr.com/
Website:
www.worldofamandahocking.com