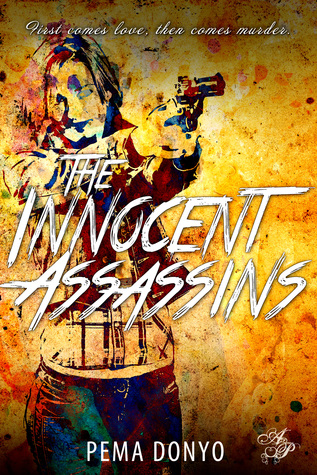 Genre: Young Adult
Publication date: June 24th, 2014
Publisher: Astraea Press
Read: March 2015
Pages: 344
Rating: 4/5
Summary:
There are three rules to staying an assassin at the corporation of Covert Operatives: (1) your parents must be deceased, (2) your contracts must remain confidential, and (3) you must be under the age of eighteen.
After a murder mission goes awry a month before her eighteenth birthday, Covert Operatives assassin Jane Lu finds herself caught by the federal government and forced to spy for the CIA while remaining in Covert Operatives. Once her spying mission is over she will be allowed to live a civilian life without facing criminal consequences, a life she's only dreamed of having.
As Jane leaks information to the CIA, she uncovers secrets with enough power to both destroy Covert Operatives and her own boyfriend, Adrian King, who's next in line to be CEO of the company. When her identity as a double agent for the CIA is discovered within Covert Operatives, she must decide where her allegiance, and her heart, truly lies.
My review:
I received a copy of this book in exchange for an honest review.
What I liked about this book is how courageous, determined and honest the main character Jane was, especially in the beginning. If you didn't know, I love brave characters. I also really like where the story was set, it was a very interesting kind of world and It'd be nice to learn more about it.
There were some decisions the protagonist made that I wasn't necessarily happy about, but the good thing was that I didn't get really annoyed by her. I loved how right from the beginning we met her boyfriend. I enjoyed reading their arguments. In real life, arguments between couples are never fun, but in books, It's actually pretty entertaining. Who agrees?
Normally, I hate love triangles. I don't know if this is a spoiler or not, if it is, I'm sorry for spoiling y'all. Anyway, there was a love triangle in this book and I can't say I hated it. It was actually pretty awesome, because I didn't like both of them and the ending was pretty satisfying. What I hate about love triangle is when I like both guys and in the end I know someone is going to be heart broken and it just pisses me off.
The story was really good, although I didn't really connect with the characters as much as I wanted to. The author's writing is impressive knowing she's still in college. It gives me hope (fingers crossed) that It's not impossible for me to write a book. hehe. I recommend this to readers who loves fantasy/dystopian stories with romance in it.
About the author:
Pema Donyo is the author of The Innocent Assassins and One Last Letter. She's also a coffee-fueled college student by day and a creative writer by night. As a sophomore at Claremont McKenna, she's still working on mastering that delicate balance between finishing homework, meeting publisher deadlines, and… college.
Black coffee, period dramas, spoken word poetry, faded book covers, and peanut butter continue to be the driving forces in her life.
Find her online at
http://pemadonyo.wordpress.com
or follow her on Twitter @
https://twitter.com/PemaDonyo