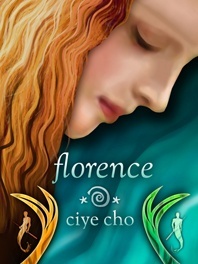 Genre: YA Fantasy
Publication date: July 1st, 2012
Read: March 2015
Pages: 336
Rating: 4/5
Summary:
Seventeen-year-old Florence Waverley is out of her depth. Literally. Kidnapped and taken below the waves to the mer world of Niemela, she is the ultimate gift for merman Prince Kiren: a human familiar tied to his side. But nothing is what it seems amid the beauty and danger of a dark ocean.
Every Niemelan has a role to play, from the mermaids who weave towers out of kelp to the warriors who fight sea monsters. But in trying to survive, Florence will end up in the middle of a war between the mer and the Darkness. A conflict that will push her between two brothers: Kiren, the charmer inexplicably drawn to both her and the monsters; and Rolan, the loner who has been pushing her away since the day they met. But in order to take a stand--and find out where she belongs--Florence will have to risk it all: her life, her heart... and her very soul.
My review:
I was intrigued just by reading the summary of Florence. I haven't read any mermaid books ever since the Watersong series by Amanda Hocking which I've read a year ago, so when I received a copy of Florence in exchange for an honest review, I was really excited to read it.
I was really hoping I'd enjoy this book because I'm really busy at this time of the year with exams and didn't want to waste my time reading a book that was boring.
From the start, I was really impressed with the author's writing style. I loved how he described everything, the places, the characters, etc. The author's writing is very important when you're writing a book because it makes reading way easier for the reader. Who would want to read a book with a weak vocabulary, short descriptions and boring dialogues right?
Another thing I loved was the characters and the romance. Ahhh! I don't usually like love triangles, but having two princes love you, you feel somewhat special. Florence wasn't that character that I'd consider "great" at the beginning. She was ok, but as the book progressed, she slowly changed and became a much better person. T
There were a lot of actions going on. You always want to keep reading after each chapter. After reading, I felt like I just experienced a whole lot of adventure in this new world that I'd love to learn more about in the next books. It started a bit slow for me but if you're reading this book, don't give up, keep reading and you won't regret it.
I recommend it to anyone who loves fantasy, mermaids and romance.
About the author:
Ciye Cho lives in Australia and works as a graphic designer. He writes YA novels in his free time--and his head is often lost in the clouds or some place far from reality...
Website: http://florence-books.com/