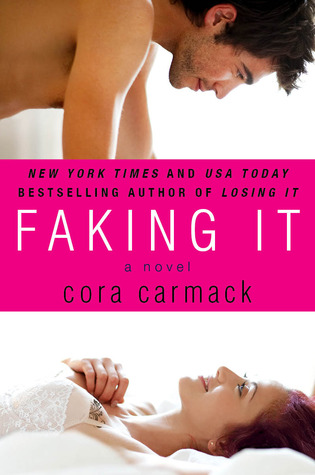 Genre: New Adult
Publication date: June 4th, 2013
Publisher: William Morrow & Company
Pages: 304
Rating: 5/5
Summary:
Mackenzie "Max" Miller has a problem. Her parents have arrived in town for a surprise visit, and if they see her dyed hair, tattoos, and piercings, they just might disown her. Even worse, they're expecting to meet a nice, wholesome boyfriend, not a guy named Mace who has a neck tattoo and plays in a band. All her lies are about to come crashing down around her, but then she meets Cade.
Cade moved to Philadelphia to act and to leave his problems behind in Texas. So far though, he's kept the problems and had very little opportunity to take the stage. When Max approaches him in a coffee shop with a crazy request to pretend to be her boyfriend, he agrees to play the part. But when Cade plays the role a little too well, they're forced to keep the ruse going. And the more they fake the relationship, the more real it begins to feel.
My review:
This is the second book of the Losing it companion type of series. As much as I enjoyed and loved the first book, this second book blew me away! It made me laugh out loud and choke (seriously haha) which doesn't always happen when I read books.
I really enjoyed the entire plot and the characters. I have to admit that I wasn't really a big fan of Cade in Losing it , but after reading this book, he just became my current fictional boyfriend. Yes. I love how he acts as the 'boyfriend' of Max. It was hilarious how they met and how they pretend to be a couple.
Since the beginning, I've always imagined Max to be fearless, but I guess she's not entirely that brave. In front of her parents, she's a completely different person because they expect her to be a good and 'replace' her sister. Cade tries to make her act like her true self in front of her famil. He didn't fall for Mackenzie, he fell in love with Max, but she's too afraid to show the real her to her mom, dad and brother.
I love how different they are and how people around them are surprised they're even hanging out together. Love is not about how two people look good together, but how they feel good around each other. How they can share everything with each other and how they support and love each other no matter who they are.
This book was amazing and I can't wait to read the third and final book (Finding it) of this companion series. I love Cora Carmack's writing and I definitely recommend you to read her books if you love new adult, if you want to laugh or if you love romance in general.