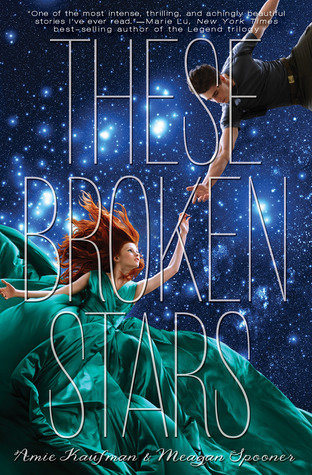 Genre: Sci-Fi, YA, Romance
Publication date: December 10th, 2013
Publisher: Hyperion
Read: January 2015
Pages: 374
Rating: 5/5
Summary:
It's a night like any other on board the Icarus. Then, catastrophe strikes: the massive luxury spaceliner is yanked out of hyperspace and plummets into the nearest planet. Lilac LaRoux and Tarver Merendsen survive. And they seem to be alone.
Lilac is the daughter of the richest man in the universe. Tarver comes from nothing, a young war hero who learned long ago that girls like Lilac are more trouble than they're worth. But with only each other to rely on, Lilac and Tarver must work together, making a tortuous journey across the eerie, deserted terrain to seek help.
Then, against all odds, Lilac and Tarver find a strange blessing in the tragedy that has thrown them into each other's arms. Without the hope of a future together in their own world, they begin to wonder—would they be better off staying here forever?
Everything changes when they uncover the truth behind the chilling whispers that haunt their every step. Lilac and Tarver may find a way off this planet. But they won't be the same people who landed on it.
--
A timeless love story,
These Broken Stars
sets into motion a sweeping science fiction series of companion novels. The Starbound Trilogy: Three worlds. Three love stories. One enemy.
"But she's here, she's mine. I'm hers."
Let's start with Tarver shall we? Isn't he amazing? No wonder people see him as a hero. I liked almost everything about him. I like how he smiled, how he teased, how he handled the whole situation...Honestly? I wouldn't mind getting stuck in an alien planet with him. I feel like with him, I'd feel safe. The one thing that bothered me in his case is how he had a hard time believing Lilac. At some point, I understood why he didn't believe her but most of the time I just wanted to roll my eyes at him and be like "Seriously? Listen to her!!!"
"If you die," I whisper, my eyes on his, "then I will too."
Lilac, daughter of the richest man in the universe, I adored her but when she started acting mean and stubborn around Tarver, I was like "What the hell? What's your problem?" Then I understood afterwards and It didn't matter anymore. I learned to really love her character because of how brave she was, knowing how she lost someone she really loved from her past. I liked how she finally started trusting and loving Tarver. Since the moment they realized they both liked each other, oh damn, I had butterflies in my stomach every time.
This story kind of reminds me of the Titanic but less cheesy and it's in outer space. I love how the writers took their time with the character development. Their writing was amazing and I'm happy I finally read this book. After reading Alienated, I wanted to read more YA Sci-Fi novels and this one didn't disappoint me. I'm really looking forward on reading the next book which is called "This Shattered World" in the next few months. I still have to read a ton of books before I can buy more books so... I can't read it yet.
About the author: Amie Kaufman
Amie Kaufman is the co-author of These Broken Stars, the first in the Starbound trilogy, and Illuminae, the first in a new series starting in 2015. She writes science fiction and fantasy for teens, and her favourite procrastination techniques involve chocolate, baking, sailing, excellent books and TV, plotting and executing overseas travel, and napping.
She lives in Melbourne, Australia with her husband, their rescue dog, and her considerable library. She is represented by Tracey Adams of Adams Literary.
About the author: Meagan Spooner
Meagan Spooner grew up reading and writing every spare moment of the day, while dreaming about life as an archaeologist, a marine biologist, an astronaut. She graduated from Hamilton College in New York with a degree in playwriting, and has spent several years since then living in Australia. She's traveled with her family all over the world to places like Egypt, South Africa, the Arctic, Greece, Antarctica, and the Galapagos, and there's a bit of every trip in every story she writes.