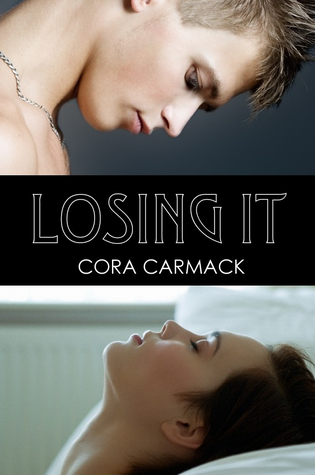 Genre: New Adult
Publication date: October 15th, 2012
Publisher: HarperCollins Publishers
Read: February 2015
Pages: 189
Rating: 5/5
Summary:
Sick of being the only virgin among her friends, Bliss Edwards decides the best way to deal with the problem is to lose it as quickly and simply as possible - a one-night stand. But her plan turns out to be anything but simple when she freaks out and leaves a gorgeous guy alone and naked in her bed with an excuse that no one with half-a-brain would ever believe. And as if that weren't embarrassing enough, when she arrives for her first class of her last college semester, she recognizes her new theatre professor. She'd left him naked in her bed about 8 hours earlier.
My review:
As much as I'd like to write a long review, this will be short because there's not much to say. You know when a book was so good you just have no words to describe your feelings? But I had to try because one day I'll read this review and be like "Damn, I remember how awesome that book was!" and will certainly reread it.
This book was AMAZING, INCREDIBLE, MARVELOUS, AWESOME, ENTERTAINING, AWKWARD AND HILARIOUS! I've been wanting to read this book for so long and now that I finally read it, ahhhhhhhh I'm pleased!
Bliss was so awkwardly funny and she reminded me so much of my friend. I adored her character so much. Garrick was really sweet, fun and very attractive especially with his British accent. There were so many scenes I loved that I want to share with you guys but I don't want to spoil you. If you love romance, specifically new adult, you will enjoy this book. You will laugh, swoon, laugh, swoon, laugh and swoon again. hahaha. I really wished this book was longer.
About the author:
Cora Carmack is a twenty-something writer who likes to write about twenty-something characters. She's done a multitude of things in her life-- boring jobs (like working retail), Fun jobs (like working in a theatre), stressful jobs (like teaching), and dream jobs (like writing). She enjoys placing her characters in the most awkward situations possible, and then trying to help them get a boyfriend out of it. Awkward people need love, too. She is the New York Times and USA Today bestselling author of the Losing It series.