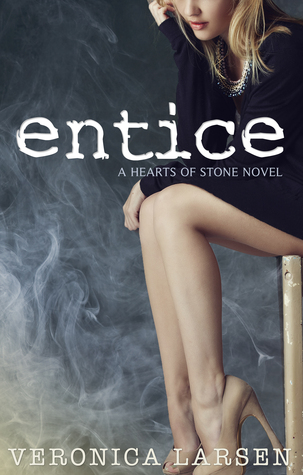 Genre: Romance
Publication date: May 25th, 2015
Read: May 2015
Rating: 5/5
Summary:
Coming soon!
A story of reconciling the past with the present in order to glean new beginnings. Entice is a sexy, humorous, second-chance love story.
Turns out I've been faking being an adult.
My job? My apartment? The pretty life I've built?
Let's just say I've made some mistakes.
I'm knee-deep in the mess I've made when I find him. Tall, dark-haired, and rough around the edges. The boy I never noticed is all grown up, in all the right ways. And he's not about to let me forget it.
He can try to pretend he's immune to our attraction. I'm trained in the art of persuasion and I love a challenge.
But how can he know the answers to questions I haven't thought to ask? I've been putting out fires, fighting like crazy to get my life back on track. And this man? He acts like he knows who's holding the match.
Maybe there's no such thing as mistakes.
What if it's all just sabotage?
Entice can be read as a standalone, but contains major spoilers to Entangle.
My review:
Received an ARC of this book from the author herself.
This book was two times better than the first book! Don't get me wrong, I loved the first book, but I enjoyed Emily's story even more.
This is probably one of the books I've read in the "romance" genre where the two main characters (man and woman) saw each other again after years of being apart and they're not obsessed with each other.
For example, it wasn't like "I never stopped loving her, she's the only woman I've ever loved, I can't live without her…" and the girl would be like, "He's the most beautiful person I ever saw, I'm nothing without him." I'm probably exaggerating, but you know what I mean.
It wasn't cheesy, which was AWESOME and refreshing. They say the right things at the right time. There are romance novels that are really unrealistic, but I try to not pay attention very much and just focus more on the story instead of the couple's sweet/romantic dialogs. I'm getting tired of men who are playboys in the beginning and suddenly they see this beautiful girl and they start changing right away. That's not very realistic and I'm starting to not like it. *oups*
"I wanted you. You were all I could think about."
The story focuses more on Emily and Owen. I thought I would learn more about Lex's and Emily's mom, but nope. It doesn't really bother me, I just thought I would get more info on their family issue.
I loved how Emily doesn't remember Owen at first and I really enjoyed reading the parts when she started flirting with him. It was very entertaining it made me laugh a few times.
I also liked the fact that it took Owen a little while until he started to show how he really felt about Emily.
There are more things in this book that I really loved and that made me crush on Owen, but I don't want to spoil you guys!!!
I'd like to add that you should expect to read really HOT SCENES GUYS! HOT SCENES!
HOWEVER,
Please tell me there's another book about Emily because after reading this I was just like… "Whaaaaat? That's it!?" Her story is far from over and if there's more, I'll buy it without a doubt! If not, I'm writing an ending for them because the end is just unacceptable, it can't end that way!
About the author:
My review on the first novel of the Heart of Stone companion series: Entangle