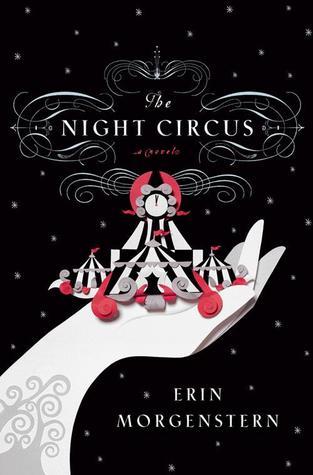 Genre: Fantasy, Magical Realism
Publication date: September 13th, 2011
Publisher: Harvill Secker
Pages: 512
Rating: 5/5
Summary:
The circus arrives without warning. No announcements precede it. It is simply there, when yesterday it was not. Within the black-and-white striped canvas tents is an utterly unique experience full of breathtaking amazements. It is called "Le Cirque des Reves," and it is only open at night.
But behind the scenes, a fierce competition is underway--a duel between two young magicians, Celia and Marco, who have been trained since childhood expressly for this purpose by their mercurial instructors. Unbeknownst to them, this is a game in which only one can be left standing, and the circus is but the stage for a remarkable battle of imagination and will. Despite themselves, however, Celia and Marco tumble headfirst into love - a deep, magical love that makes the lights flicker and the room grow warm whenever they so much as brush hands.
True love or not, the game must play out, and the fates of everyone involved, from the cast of extraordinary circus per-formers to the patrons, hang in the balance, suspended as precariously as the daring acrobats overhead.
My review:
"Marco lifts his hand to brush a stray curl away from Celia's face, tucking it behind her ear and stroking her cheek with his fingertips."
In my opinion, The Night Circus is one of those books that demands the reader's complete attention because there are so many informations and details to remember in order to fully understand the story.
Also, I took my time reading this book because I wanted to stay in the magical world and in the atmosphere Erin Morgenstern created. It's so entertaining, magical and interesting that you just want to live in it.
I don't read a lot of magical realism books and I was intimidated by this book when I first heard of it last year. I thought that it wasn't for me and that I wouldn't be able to finish it, but now, a year later, this book just made my favourite list and I'm really glad I finally read it and experienced this amazing and magical journey.
I will definitely reread this book in the future because I know that there are some tiny details that I've missed and also because I really really enjoyed reading about all the characters in this book and the plot is amazing overall.
"When all of this is over, no matter which one of us wins, I will not let you go so easily."
I have to admit that the dates are a little confusing. When the story shifts to Bailey and then back to the two main characters, I was kind of lost, but it got easier towards the end so, don't worry.
The romance in this book was a little like the insta-love trope that a lot of readers, including me hate, but surprisingly I find it really really cute and sweet in this novel. I was swooning while reading the scenes when Marco and Celia were together. The love story is just wonderful!
Another thing, I found out that this particular book was written during Nanowrimo and that fact just motivates me to do better and to write a book in 30 days.
Finally, I recommend this book to readers who wants to read something different or something out of their comfort zone. Like I said before, I don't really read Magical Realism, but I still enjoyed reading this, so if you are exploring for new genres, give this book a try.
About the author:
Erin Morgenstern is a writer and a multimedia artist, who describes all her work as "fairy tales in one way or another." She grew up in Marshfield, Massachusetts. She currently lives in Boston, Massachusetts with two very fluffy cats.
Website:
http://erinmorgenstern.com/