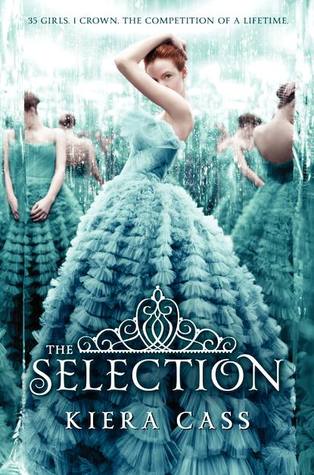 Genre: Young adult / Dystopian
Publication date: April 2012
Publisher: Harper Teen
Read: May 2014
Pages: 336
Summary:
"For thirty-five girls, the Selection is the chance of a lifetime."
(Back cover of the Selection)
The opportunity to escape the life laid out for them since birth. To be swept up in a world of glittering gowns and priceless jewels. To live in a palace and compete for the heart of gorgeous Prince Maxon.
But for America Singer, being Selected is a nightmare. It means turning her back on her secret love for Aspen, who is a caste below her. Leaving her home to enter a fierce competition for a crown she doesn't want. Living in a palace that is constantly threatened by violent attacks.
The America meets Prince Maxon. Gradually, she begins to realize that the life she's dreamed of may not compare to a future she never imagined.


Thoughts on the main character:
America Singer, at first I couldn't believe that was her name. I really liked her at the beginning. I respected her decisions and I was with her throughout her journey to the mansion (castle). If I was her, I would've done the same anyway.

Thoughts on the secondary characters:
Aspen, I like him. I liked him alot at the beginning. I wanted him to marry America from the very start.

Maxon, well...As much as I like Aspen, I can't ignore a gentleman like prince Maxon. I can't hate him or anything. He's just so kind.
Celeste is the mean girl and I dislike her but not as much as other fictional characters in other books. In my opinion, we didn't really see alot of her in this book. There were some scenes where she did mean stuff but they weren't many.
Overall thoughts:
The Selection series was recommended by my friend Claudia who fell in love with Aspen from the start and she told me how intriguing it was. Curious, I purchased the three books immediately and read the three within a week. It was really interesting and I was really into the story and I had so much fun reading it. I felt like I was in America Singer's dystopian world and I had to compete against thirty-four other girls and I just felt really nervous, happy, sad and pissed off while reading this series. I compare this series to the bachelor, if you don't know what that is, it's a show where a man has to choose a women who will become his future wife. It's really captivating and I think that it's a perfect series to read when you want to escape reality for a little while.
Next book of the series:
The hotly-anticipated sequel to the New York Times bestseller The Selection.

Thirty-five girls came to the palace to compete in the Selection. All but six have been sent home. And only one will get to marry Prince Maxon and be crowned princess of Illea.

America still isn't sure where her heart lies. When she's with Maxon, she's swept up in their new and breathless romance, and can't dream of being with anyone else. But whenever she sees Aspen standing guard around the palace, and is overcome with memories of the life they planned to share. With the group narrowed down to the Elite, the other girls are even more determined to win Maxon over—and time is running out for America to decide.

Just when America is sure she's made her choice, a devastating loss makes her question everything again. And while she's struggling to imagine her future, the violent rebels that are determined to overthrow the monarchy are growing stronger and their plans could destroy her chance at any kind of happy ending.