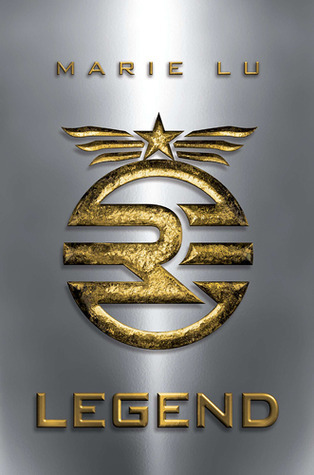 Genre: YA Dystopian
Publication date:
Publisher:
Read: January 2015
Pages: 305
Rating: 5/5
Summary:
What was once the western United States is now home to the Republic, a nation perpetually at war with its neighbors. Born into an elite family in one of the Republic's wealthiest districts, fifteen-year-old June is a prodigy being groomed for success in the Republic's highest military circles. Born into the slums, fifteen-year-old Day is the country's most wanted criminal. But his motives may not be as malicious as they seem.
From very different worlds, June and Day have no reason to cross paths - until the day June's brother, Metias, is murdered and Day becomes the prime suspect. Caught in the ultimate game of cat and mouse, Day is in a race for his family's survival, while June seeks to avenge Metias's death. But in a shocking turn of events, the two uncover the truth of what has really brought them together, and the sinister lengths their country will go to keep its secrets.
My review:
OMG!
Oh how I wish I read this book sooner. A lot of people were talking about how good it was and I don't understand why I decided to pick it up just now. There must be something wrong with me, don't you think? haha x)
Before I read this book, I predicted so many things in my head and I started comparing it to the Hunger Games or Divergent without even reading it. Many bloggers/booktubers kept saying it that's why.I shouldn't have listen! GUYS! Don't compare this to any of those books because this is different.
I loved how brave and clever the two main characters were. June is an absolute kickass character and Day...well I thought he really was a criminal but he was actually just doing everything to protect his family and I loved that about him. All the characters in this book were all very interesting to read about and it just sucks that June's brother had to die because he was such a nice guy even though he only appeared in the beginning.
I'm so glad I read this book. It was a fun and easy read that anyone can pick up. I highly recommend it. The story was well structured and very intriguing. You'll enjoy it!
About the author:
She's from Wuxi, China and this is her bio on Gooodreads:
I write young adult novels, and have a special love for dystopian books. Ironically, I was born in 1984. Before becoming a full-time writer, I was an Art Director at a video game company. Now I shuffle around at home and talk to myself a lot. :)
I graduated from the University of Southern California in '06 and currently live in LA, where I spend my time stuck on the freeways.
You can visit her on her site: http://marielubooks.tumblr.com/