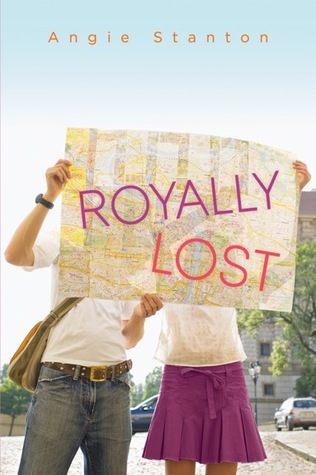 Genre: Contemporary Romance, YA
Publication date: May 6th, 2014
Publisher: Harper Collins
Read: February 2015
Pages: 336
Rating: 4/5
Summary:
Dragged on a family trip to Europe's ancient cities, Becca wants nothing more than to go home. Trapped with her emotionally distant father, over-eager stepmother, and a brother who only wants to hook up with European hotties, Becca is miserable. That is until she meets Nikolai, a guy as mysterious as he is handsome. And she unknowingly finds herself with a runaway prince.
Nikolai has everything a guy could ask for-he's crown prince, heir to the throne, and girls adore him. But the one thing he doesn't have...is freedom. Staging a coup, he flees his kingdom and goes undercover on his own European tour.
When Nikolai and Becca meet, it's their differences that draw them together. Sparks fly as they share a whirlwind of adventures, all the while dodging his royal guard. But Becca's family vacation ends in a matter of days. Will Nikolai and Becca be forced to say goodbye forever, will his destiny catch up to him, or will they change history forever?
My review:
This book was a really quick read. The story was really cute and a little cheesy but not too much. It reminded me a lot of "Just One Day" by Gayle Forman which by the way is a really good book, you guys should check it out if you haven't read it yet.
Nikolai was really sweet and I just loved him from the start. I don't have a lot of things to say about the main characters honestly. I just liked the both of them and didn't have any problem with their character. For the secondary characters, I really wished Alexis, Nikolai's sister, was more involved in the story. When she was mentioned, I really wanted to know more about her because she seemed like the type of girl who liked to have fun and it would've been awesome if she and Becca became good friends.
I love stories that takes place all around Europe just because I really want to travel over there one day and maybe meet a prince trying to escape?
hahaha
so not happening
xD
Like "Just One Day", there's a lot of Europe history in this book. I liked learning about their History and read about a love story at the same time. It was pretty cool.
I recommend this to anyone who loved Just One Day by Gayle Forman, anyone who wants to know more about the European History or people who likes traveling.
About the author:
Angie Stanton never planned on writing books, she wanted to be a Rockette. However, growing up in a rural setting with her brothers' 4-H pigs as pets, dance didn't work out. Instead she became an avid daydreamer. After years of perfecting stories in her head she began to write them down and the rest is history.
She loves dipping french fries in chocolate shakes, all natural disaster movies and Broadway Musicals. Angie is a proud double finalist of the 2011 National Readers Choice Awards for Love 'em or Leave 'em, as well as a finalist for the Golden Quill Award.
When not writing, Angie is concocting ways to make more dreams come true, whether it be tickets to a Broadway show or convincing her family they should rent an RV and travel the country.
Please "Like" Angie on Facebook at
facebook.com/AngieStantonAuthor
.