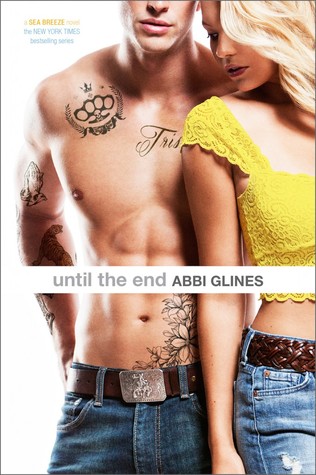 Genre: New Adult/ Romance
Publication date: October 28th, 2014
Publisher: Simon Pulse
Read: January 2015
Pages: 271
Rating: 5/5
Summary:
The backstory that fans have been clamoring for—how Rock and Trisha fell in love—is the final installment in the Sea Breeze series from New York Times bestselling author Abbi Glines. And don't miss the sizzling Epilogue, where Abbi wraps up all the Sea Breeze couples' stories!
Trisha Corbin always knew how to hide a bruise. With her momma's boyfriends unable to keep their hands off of her, she had no choice. And as long as it meant the guys wouldn't go near her little brother, Krit, it was worth it. But her days of dreaming that Prince Charming would ever come rescue her are far, far in the past.
Rock Taylor always had a plan. Through football, he would rise above the life he was born into. A full ride to play for a major college team was within his reach—assuming he didn't let anything get in his way. But scoring a date with the hottest girl in Sea Breeze was proving harder than expected. Trisha Corbin was every man's walking fantasy, and she wouldn't even glance his way.
When Rock finally does get Trisha in his truck, it isn't for a date. It's because he picks her up on the side of the road, beaten and bruised and walking to the local hospital. Before Rock knows it, football is no longer his life. Trisha Corbin is. And he'll do anything to save her. And keep her.
In addition to Rock and Trisha's love story, this special novel contains the wrap-up stories of all your favorite Sea Breeze couples: Sadie and Jax, Marcus and Low, Cage and Eva, Preston and Amanda, Jess and Jason, Krit and Blythe, and Dewayne and Sienna.
My review:
"With one look, that girl had changed my dreams." -Rock
Rock and Trish' love story was a love at first sight. I loved Trish' character in the previous books and It was nice to finally read her thoughts. It was so beautiful to read how Rock took care of both Trish and Krit after knowing how they were living/suffering at home. Rock was willing to sacrifice everything for Trish and that might sound cheesy but I guess that's just true love. He was committed to her and it was cute. I also wanted to add that Krit was really creeping me out with his actions back then. O.o
"Because I don't want to be your friend Trisha, I want to be yours."-Rock
Seriously, the "Can we be friends?" quotes is getting pretty old lol. We all know guys from this series don't ask girls to be their friend unless they really want the girl to like them back.
*THE EPILOGUES*
"I don't want to love him. But I do. So much."-Breathe(Book1)
This epilogue shocked me a bit at the beginning. Wow. I never expected the plot twist to their story. I'm not going to say anything more because I don't want to spoil you guys but yeah, you might panic a bit reading this one.
"My fairy tale wasn't over. It was just the beginning."-Because Of Low(Book2)
I loved Marcus and Low's love story. It was so sweet and cute. I'm glad they're happy with their life being married with a son and an upcoming babyyyyy. I loved reading their epilogue.
"He was my one."-Just For Now(Book4)
This one was a little bit funny. Preston's reaction in the beginning was hilarious and of course the surprise before the wedding haha. Only Preston Drake alright.
"My wife. Damn, I was a lucky son of a bitch."-Misbehaving(Book6)
I still can't believe how much Jess has changed throughout this series. She was a bitch back then and in this epilogue, she was so insecure and always thought she didn't deserve Jason. I'm glad they had their happy ending.
"My heart was complete with you."-Bad For You(Book7)
Bad for you was my favorite of this series and this ending was a bit funny. Oh Krit. Such a sweetheart and Blythe was perfect as always.
"I want to be able to say 'Have you met my wife, Sienna?'"-Hold On Tight(Book8)
Dewayne was really different in this epilogue. He wasn't the guy I met all the way back in Book 1 anymore. He's going to be a great husband and dad no doubt.
"Fate happens, and it's better than what you had imagined in the first place."-While It Lasts & Sometimes It Lasts(Book3 & Book5)
I loved this. Eva, Cage and their daughter were just perfect! In real life you wouldn't imagine a guy like Cage getting married with kids. If only all guys like him could realize there is that one woman who is worth changing for.
10 years later... #lastepilogue
I'm not going to spoil this but I totally had my mouth wide open after reading the very last sentence. O.M.G!
It saddens me to know that this is the final book in the series. I really loved the Sea Breeze series and as much as I loved and enjoyed every single story, it's still sad to know it's finally over.
I really recommend all of these books. I recommend all books by Abbi Glines, they're short (about 200 pages) but you'd feel like you've read more than that. I didn't read all of her books YET but I've read all of the Rosemary Beach series and this series and I can honestly say that I loved her writing and her love stories. HIGHLY RECOMMEND!